Well, the Sarasota Half Marathon is over and it was a huge success. So huge in fact, I still can't believe it myself.
Chip time - 2:09:32.
That's right, 15 minutes off my Half Marathon time from just 5 weeks ago! I knew I was holding back a little bit during the Miami Half, but I really didn't expect to do a sub 2:10. I think maybe I was hoping it somewhere in the back of my mind, but I didn't want to say it outloud in case I jinxed myself. Actually, had the weather not been so perfect, I'm sure it would have added a minute or two (or five) to my overall time.
Jeremy and I drove up to Sarasota on Thursday night after work. Since it is about a 3 1/2 to 4 hour drive, we got in around 11pm, talked to my mom for a bit and went to bed. Friday we got up early and headed downtown for lunch. Afterwards, we strolled around the bayfront as I played with one of my new camera lenses.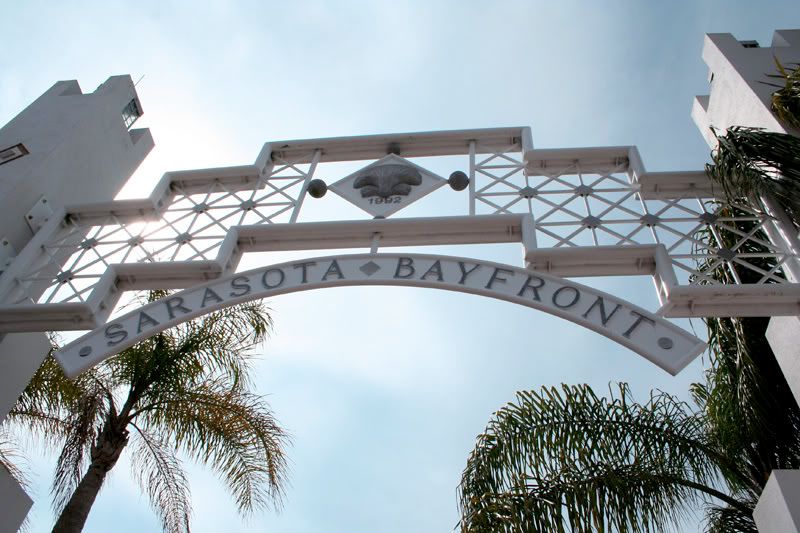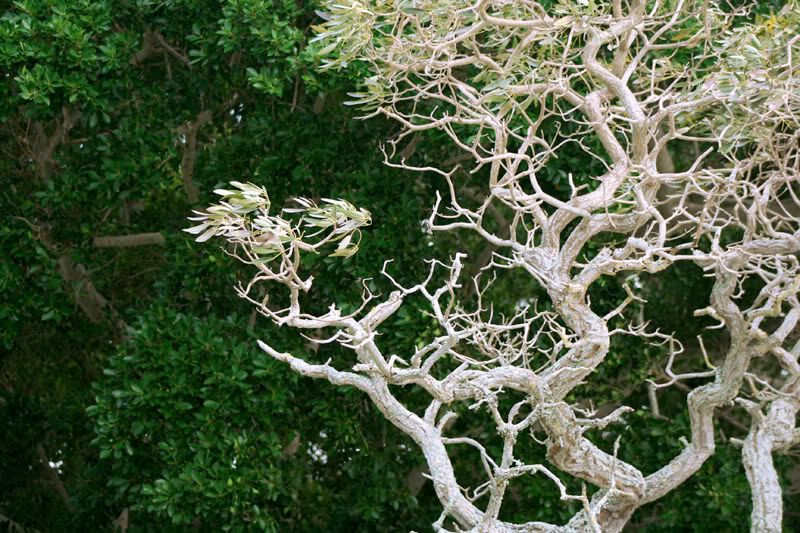 We went to the expo at around 4pm to pick up our packets but didn't stay too long. It wasn't the biggest expo in the world, which made it easy to walk through it quickly and avoid spending too much money. The race tshirt was cute too with the little grouper logo on it.
Sunday morning we went to the Broken Egg for breakfast with my parents and ate blueberry pancakes the size of my head. We all hung out the whole day and later my dad made an awesome spaghetti dinner for us with garlic bread and a salad. I didn't get to take a bath like I like to do the night before a race but I did stand in the hot shower for about 20 minutes. It helped loosen up the muscles and relax me for a good nights sleep.
On gameday we woke up a little after 4am. We packed our bag the night before so we pretty much just got dressed, drank water, ate half a Cliff Bar and took off. By South Florida standards, it was pretty chilly outside (HA! - in the 50's) with just a slight breeze, so it was really, really nice. Pretty much perfect conditions for running.
We drove to Ringling Museum of Art where the race began and parked fairly easily. Of course as soon as I got there I had to use the bathroom so I got in line to wait.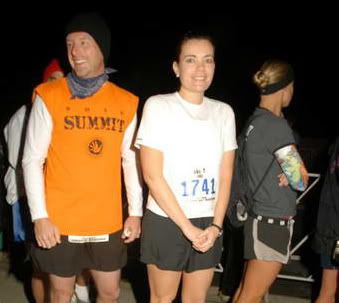 But after about 15 minutes of standing still, I decided to just find a bush. Aahhh, the realities of running. Why is it there are NEVER enough port-o-potties?
After that we gathered in the corral and only waited about 5-10 minutes before the race started. The weather could not have been better and I felt great. I was also really excited about running with Jeremy. Since the Miami Race, we have been running together at least 3 days a week and it has been really nice. He gets me running faster, but he never pushes me or makes me uncomfortable. He is truly a great running partner.
Awwww..shucks.
The race began at 6am with the Half and Full starting together. The first few miles were through a neighborhood that had NO lights, so that was a bit rough in the dark with 2,500 other people. Somehow we managed to not get run over. It also made it a bit hard to take walk breaks at first so we tried to jump up in the grass when we had to slow down. Jeremy did a pretty good job of giving me a fair warning when our breaks were coming so I could maneuver around everyone. We had decided to try to run the first few miles around a 10:30 pace (with 5:1 walk breaks) and did a good job of pacing ourselves right on. As the sun came up and the miles wore on, we both felt great and the scenery started getting better. As a matter of fact, for about the first 8 miles, I barely felt like I was running at all. I attribute this to the perfect climate and good company.
After the neighborhoods, we did a stretch down US 41 which was a bit boring and a little scary since half the road was still open to traffic. We were a little to close for comfort to some of these cars driven by random retirees when it's barely light outside. Who drives that early on a Sunday morning anyway?
Then we came to the new John Ringling Causeway which is beautiful, but a lot taller than I remembered.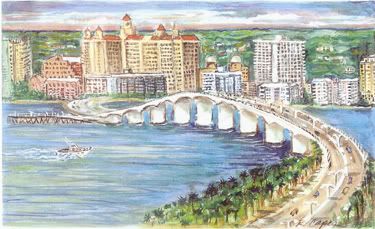 Especially the second time we had to run across it...with a headwind...at mile 8.
As we turned around and headed back to the museum, that's when I started feeling it. US 41 didn't seem so short and sweet on the way back. And since when was it uphill? I lived in that town for 12 years and never remember 41 being on an incline. Once we got back to the neighborhoods, I didn't care as much to look at the quaint houses in the daylight as I had thought I would when we were running out.
Our strategy going into the race was to see how I felt at mile 10 and then we could forgo the walk breaks if I was up for it. I thought I could do it, but luckily Jeremy made me stop one more time at mile 11. Good thing, because the last 2 miles were a lot harder than I had expected. I knew I could do it, but I was feeling a little nauseous and I REALLY wanted one more walk break. The hard part was, I had no idea where we were or how far we were from the finish. The final half mile was filled with all these twists and turns and banyan trees. I saw what seemed like a million runners walking towards us with their medals around their necks cheering us on, but where were they coming from??? I wanted to kill one guy when he said,
"Good job guys...come on...only two more football fields to go!!!"
Um...I am no football whiz, but at that moment he may as well have told me I had another 20 miles to run. Football fields are HUGE!!!
But there was Jeremy, whispering to me how strong I was and how I could do it and not to leave it at mile 12. It sounds so stupid, but for once, I really, really neeeded someone to cheer me on. A hard thing for me to admit.
When I finally saw the finish and looked at my watch I realized I was very close to running a sub 2:10. We took off as fast as my feet could go and ran across the finish. It was a total blur and definitely much harder than Miami, but I wasn't dying and after about 3 minutes, I felt fine. It was an awesome run, perfect weather and so much fun.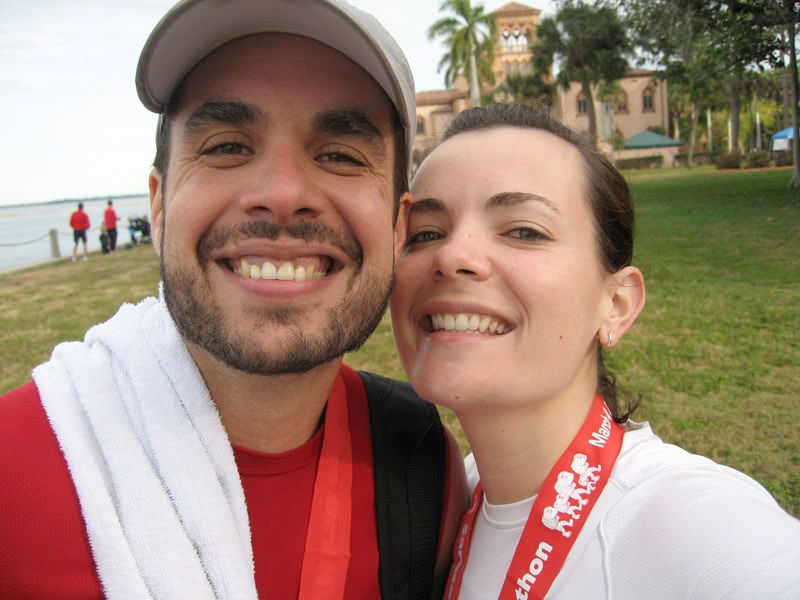 Here are my splits:
1) 10:37
2) 10:21
3) 10:24
4) 9:47
5) 10:14
6) 9:32
7) 10:19
8/9) 19:36 (missed a mile marker?)
10) 9:44
11) 9:28 (no wonder I was getting tired)
12) 9:35
13.1) 9:51
It was such a great day and a huge accomplishment for me. I kind of feel like a dork saying it, but I am really proud of myself for this. It's amazing how much a 13 mile journey can change someone's perspective.